Joseph T Cruise, MD's Neck lift Philosophy
| | |
| --- | --- |
| The world of facial and neck rejuvenation has undergone dramatic improvement over the last 10 years. In my hands, it has become more art and fat/muscle repositioning and less skin tightening. After reading the above sections you will realize that facial and neck aging is actually a very complex process. It involves primarily the descent of facial fat and muscles and secondarily the stretching of the skin. | |
When you come in for consultation, if you are a good candidate for neck lifting and no face lift is necessary, you may have digital photographs taken of your face and neck in multiple directions. We will review the pictures together so that I have a clear understanding of what it is that you would like. I will go over the process of neck lifting and what is and what is not possible. I can then digitally alter the pictures to see if the changes are what you are looking for. Of course, no results can be guaranteed but in my experience I can give you a pretty good idea of what is likely.
The way I typically do my neck lift depends on what is necessary. Often, it is necessary to make a small incision just under the chin to remove neck fat and to bring the neck muscles back together. Bringing the neck muscles back together effectively diminishes or eliminates the turkey neck appearance. At this point, I secure the muscles in position by suspending it with suture. This is markedly different than the way neck lifting was done just 10 years ago which was typically a skin pulling operation. At this point, the skin is then gently redraped over the redefined neck area and sutured into place without creating a tight look. If only a neck lift is being performed, the incision is limited to the area hidden behind the ear and a small incision under the chin which becomes virtually unnoticeable.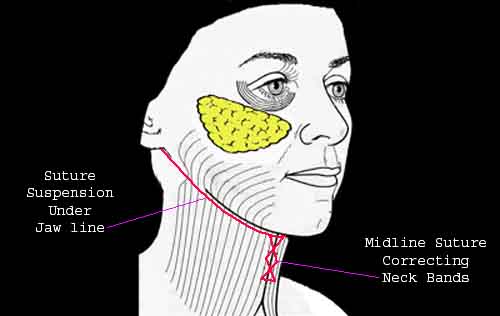 The skin has been removed to show suture location. The picture demonstrates how the platysma muscle is suspended under the jaw bone giving a well defined mandibular border as well as creating a youthful neck angle. Midline platysma muscle suture eliminates Turkey Neck.