The neck is one of the first areas to show signs of aging and when sagging skin starts to develop on the neck, a  strong, masculine jawline can fade away. A neck lift is a cosmetic procedure that reverses these signs of aging. For men, the male neck lift helps restore a more masculine appearance improving confidence in their personal and professional lives.
What is a Neck Lift? 
A neck lift is a surgical procedure that tightens excess skin and loose neck muscles and removes excess fat from under the chin and around the jawline. Tightening the underlying tissue and skin eliminates the appearance of a double chin or sagging jowls, also called a turkey neck. 
When performing neck lift surgery, Dr. Cruise believes in a personalized approach. Dr. Cruise will evaluate the entire face to determine the best procedure or combination of procedures to achieve the desired result. A neck lift is most frequently combined with a lower facelift. It is also common to add fat transfer to address volume loss, eyelid surgery, and/or a temple or brow lift. 
How is a Male Neck Lift Different Than a Female Neck Lift? 
A male neck lift is not much different than a female neck lift procedure, but there are a few things to consider. Men generally prefer a sharp jawline and prominent chin compared to women who prefer a softer appearance. Surgeons must also be careful of the Adam's apple for male patients since tightening the muscles and neck skin too much could cause this to protrude. 
Recovery and Results 
Soreness, swelling, and bruising are common during the first 1-2 weeks after surgery. During this time, patients should keep their heads elevated to alleviate discomfort and minimize swelling. Dr. Cruise will remove surgical dressings one to two days post-surgery and go over the immediate healing instructions. For six weeks,  strenuous activity and sun exposure should be avoided since this can interfere with healing.
The results of neck lift surgery are long-lasting. While the face and neck will continue to age, the process will be considerably slowed down, resulting in a youthful appearance for many years following surgery.
Schedule a Consultation 
Dr. Cruise is an award-winning plastic surgeon who has helped many male patients in Orange County, CA, and the surrounding areas.  If you are bothered by the appearance of your face or neck, schedule a consultation with Dr. Cruise to discuss his techniques for a male neck lift.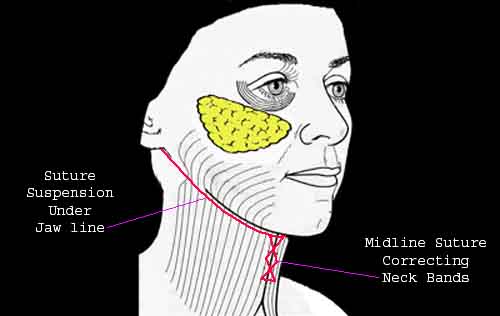 Joseph T Cruise, MD's method of re-suspending the muscles of the neck is advanced: he uses a technique called a "suture suspension" to produce dramatic results and secures the muscles to their proper location.
Notice how the suture suspension technique for this neck lift has dramatically improved the jaw line and the neck angle.