Excellence in Tummy Tuck (Abdominoplasty)
Cost: $10,500 to $17,000 Recovery: 5-7 days Anesthesia: General
Abdominal Appearance:
Determine the look you have now and what you want to achieve from surgery
Upper/Lower Abdomen
Flanks
Belly Button
Pubic Area
Technique: Mini, Standard, Extended, Circumferential
Incision Placement: How low
Additional Procedures: Pubic lift, liposuction
Outline of the surgical timeline including information at every stage of the healing process
See a large gallery of tummy tuck before/after photos
Read what actual patients say about their tummy tuck experience
Do I need liposuction?
Will my scar show in low cut pants?
What are the risks
Tummy Tuck Overview
Definition
A tummy tuck - also known as abdominoplasty — is a cosmetic surgical procedure to improve the appearance of the upper and/or lower abdomen. During a tummy tuck, excess skin and fat are removed from the abdomen. In most cases, the underlying muscles of the abdomen are tightened as well.
Characteristics
As a result of pregnancy, weight loss, or aging, the abdomen can lose its youthful appearance due to skin laxity, excess fat, loss of shape, and stretch marks.
It is important that you have a clear idea of what you want changed when you schedule your consultation. The most difficult question for a plastic surgeon to answer is: What do you think I need done
Common complaints:
Loose skin
Excess fat
Stretch marks (especially below the belly button)
Abdominal 'pooch' below the navel
Lack of a waist line
Droopy buttocks
Disproportionately large waist compared to buttocks and/or breasts
Before and After Tummy Tuck Photos
Surgery Information
Anesthesia: General
Facility: Accredited outpatient surgical facility
Recovery: Back to work 2 weeks, approx. 4-6 weeks if job is strenuous or requires physical activity
Cost: Ranges from $10,500 - $17,000 depending on the type of tummy tuck needed (mini, standard, extended, circumferential). The price will increase if combined with another procedure such as breast lift or breast augmentation.
Cruise Plastic Surgery accepts the following forms of payment:
Check
All major credit cards
Cash
Tummy Tuck Overview
Dr. Joseph T. Cruise, board-certified Newport Beach plastic surgeon, is a tummy tuck specialist who has performed hundreds of various types of tummy tucks over the years. As one of the most technically challenging cosmetic procedures, tummy tuck surgery requires a great deal of knowledge, skill, and expertise to achieve an optimal result.  Educating yourself is the key to selecting the best plastic surgeon for your tummy tuck. Take a look through this section to learn about Joseph T Cruise, MD's abdominoplasty philosophy and the types of tummy tucks he performs. We also encourage you to view his extensive tummy tuck before and after gallery so that you can make an informed decision about whether or not tummy tuck is right for you.
The medical procedure abdominoplasty is commonly known as a "tummy tuck." This procedure effectively creates a tight, flat abdomen and is one of the most popular surgeries patients requests.
An abdominoplasty removes excess abdominal skin and fat using an incision just above the pubic bone. Depending on the type of tummy tuck, the incision can be as short or longer than a C-section incision. Orange County plastic surgeon, Joseph T Cruise, MD has developed a precise surgical technique in his over ten years' experience, which minimizes and hides tummy tuck scars.
Patients who have gone through pregnancy or extreme weight loss or often frustrated with loose hanging skin, poor body shape, and stubborn excess fat. They usually find that diet and exercise cannot correct the problem to their satisfaction and choose cosmetic surgery options such as liposuction and a tummy tuck to get the results they want.Joseph T Cruise, MD consults with each patient individually in his Orange County office to discuss the changes they desire from their cosmetic surgery. This consultation also includes a physical exam to asses the patient's skin, fat, and body-type so that Joseph T Cruise, MD can provide his recommendations for liposuction or abdominoplasty. Your goals and your satisfaction are most important, and Joseph T Cruise, MD can only know what you need after meeting with you personally.
Try out this 3D animation feature for Tummy Tucks.
What is a Mini Tummy Tuck?
A mini tummy tuck is a procedure which removes loose skin from below the belly button only and includes liposuction to contour the abdominal region as well as tightening of the lower abdominal muscles. It is a suitable treatment for those who have only minor to moderate skin laxity. The mini tummy tuck technique involves a single incision, resulting in a small scar, usually only a few inches long. The recovery is generally faster than that of a full tummy tuck procedure.
How Much Does a Tummy Tuck in Southern California Cost?
Tummy tuck surgery varies in cost, depending on the type and technique used, the expertise of the surgeon, and the geographical location of the surgery. In Southern California, including cities such as Los Angeles, Irvine, and Newport Beach, your tummy tuck procedure will cost approximately $10,500-$17,000.
The Look You Have
Tummy Tuck 360° View
Take a look at the graphics below and select the abdomen that is most similar to yours. To rotate images, place your mouse on any image and drag.
Circumferential Tummy Tuck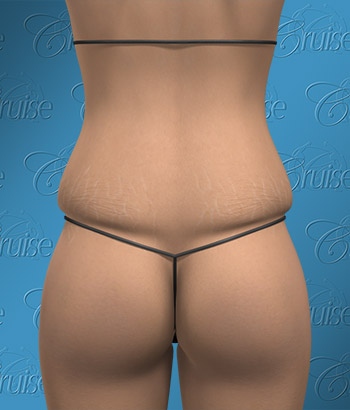 Four Types of Tummy Tucks
Each body, each person's concerns and desired outcomes, is different. As a tummy tuck specialist, Dr. Joseph Cruise understands the importance of customizing each person's procedure to meet their unique situation, which is why he offers four types of tummy tuck:
Standard Tummy Tuck
Extended Tummy Tuck
Circumferential Body Lift
Tummy tuck procedures will effectively remove unwanted excess abdominal skin and fat, as well as significantly improve any remaining stretch marks. The right type of tummy tuck for your body can dramatically alter your shape and silhouette.
Tummy Tuck Benefits:
More clothing options
Feel more comfortable in your clothing
Improved confidence
Improved intimacy
Physical activity easier
Motivated to live a healthier lifestyle
No matter which procedure is right for you, you should be aware that any abdominoplasty procedure will leave a scar that extends across the lower abdomen, near the public bone. Joseph T Cruise, MD's incision scars are minimized by years of careful training and practice, and therefore are easily hidden.
Surgical & Recovery Timeline
Recovery Timeline - Understanding what to expect during recovery as well as how long it will take you to be fully healed, is key when deciding when to having your surgery.
Tummy Tuck Recovery Timeline
Understanding the recovery period after a tummy tuck is and important element in choosing when to undergo the surgery.
Immediately after surgery, your abdomen will be covered in a surgical dressing. Often, small drainage tubes will be present around the incision to aid in proper healing.
For the first few days of recovery, you will need to rest at an angled position. Expect some difficulty with bending, lifting, or standing for prolonged periods of time. During this initial healing period, have a trusted friend or family member present to care for you.
Before your tummy tuck surgery, Dr. Cruise will give you detailed instructions on caring for any drainage tubes and dressings as well as your incision site. It is common to have a prescribed cream to apply to the incision site as well as support or compression garments to wear.
You will have several follow-up appointments scheduled so that Dr. Cruise can help monitor your recovery process throughout the first year post-op. Most patients are able to return to normal daily activities including work or school after about a week or two after their surgery.
The chart above details the timeline that most patients can expect after their tummy tuck surgery, including photos of the healing process.
When considering a mommy makeover it can be very helpful to hear from others who have already recovered from surgery. Real Self, the number one online resource for learning about elective cosmetic procedures, is a great resource. You can even talk to others to get answers to your questions, receive emotional support, as well as get tips and advice.